Suzanne Davenport
Stone Town Pottery
Suzanne is a native of The Gambia, in West Africa. She first immigrated to the United States in 1992 to obtain her University degree in Biology. There she met her Canadian husband from Nova Scotia and immigrated a second time to Canada in 1997, first to Halifax, then Ottawa and finally to Deep River.
Suzanne has always been interested in art. She is a very tactile person. She loves to draw in her spare time and has always been interested in pottery but never had to opportunity to pursue it. She was very pleasantly surprised, upon moving to Deep River 16 years ago, to find that it has its very own Potters' Guild. However, busy raising two young daughters at the time, it wasn't until 5 years ago that she had the opportunity to join the Potters' guild and began taking lessons. It was love from the very beginning. The moment her fingers touched the wet clay she knew, and she hasn't looked back since.
Suzanne works mostly in stoneware. She both throws on the wheel and does a large amount of hand building. She dabbles in decorative pieces, but her creations are mostly functional pots, which she brings to life with a bit of pizazz and whimsy!
Suzanne joined the Valley Artisan' Coop in October 2019.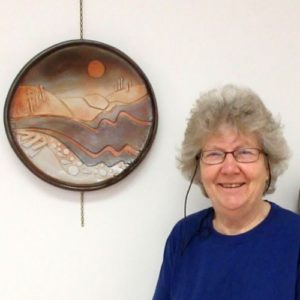 Eva Gallagher
Newfoundout Pottery
In Dec 2009 I renamed my first blog to Centered – Focus on Clay and Creativity – as I have finished my year long journey workshop with Steven Hill. The focus will continue to be on thoughts about my work – about creativity, design and function………………. I have been making pottery off and on for 40 years, exploring many different aspects of ceramics. I named my pottery business after "The Newfoundout" – the secluded valley high in the Opeongo Hills of eastern Ontario where we own an abandoned farm and where in 2007 I built a wood-fired kiln. I normally fire in a gas kiln in Deep River, Ontario, at the Deep River Potters' Guild, but do several wood firings in the summer. This blog originally documented my year long "journey workshop" with Steven Hill. It was an incredible "journey" which had a profound effect on my work and as was the North Bay mentorship. I highly recommend this type of workshop to anyone who is interested in exploring their work and creativity.
Carol Grant
Ceramic Artist
The beauty of the form is central to all of Carol's ceramic art. Carol's purely expressive, abstract porcelain sculptures, challenge her to create pieces with strong lines while conveying an underlying sense of simplicity. The forms are enhanced by the pure white surface without the need to add any other color or decoration. The shapes, intersection of the curving surfaces and the negative spaces that develop are carefully examined and refined during the forming process. With a loose idea of the intended form, the anticipation of how each new sculpture progresses keeps her fully engaged. The visual effect of the pieces when viewed from different angles are also carefully considered. Fragility is a recurring theme, compelling Carol to push the boundaries of the material. The pieces are finished with an exquisite burnished terra sigillata surface.
Carol's work has been recognized by numerous awards including grants she received from The Ontario Arts Council to study at The International Ceramic Research Centre in Denmark in 2011 and in Jingdezhen, China in 2013. Living in the beautiful town of Deep River where she is able to encounter nature on a daily basis has a profound influence on her concept of ceramic art.