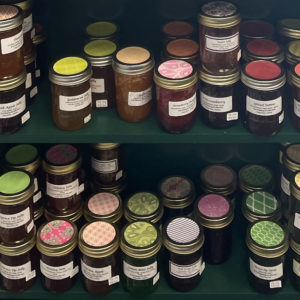 Bea Kelley
The Happy Harvester
Home Made Jams, Jellies & Preserves
Nancy Adams – The Fudge Lady
Home Made Fudge
The Fudge Lady came into existence in the wee hours of a June night in 2007. I was participating in my first Relay for Life hosted by the Canadian Cancer Society. Hoping to raise a few more funds for my team, I brought 24 pieces of fudge to sell to fellow participants. Within half an hour all my fudge was sold. However, as the night progressed, repeatedly people approached our team asking if we knew where the Fudge Lady was! Each year thereafter, until 2020 when it was cancelled due to the pandemic, I sold fudge to support my Relay team. And, each year I would introduce a new flavour to acknowledge that I could add one more to my survival of my own battle with cancer in 2006-2007. Having survived sixteen years, my fudge is available in the following flavours: vanilla, maple, chocolate, peanut butter, maple walnut, chocolate almond, chocolate coconut, chocolate mint, buckeye (chocolate with peanut butter), chocolate orange, pistachio cranberry, Black Forest, rum'n'raisin, pumpkin spice, Pina Colada and Rye'n'Ginger.
My fudge is made with all natural ingredients in the old fashioned way of boiling the milk, butter and sugar to the perfect temperature before removing from the heat before adding the flavourings and beating it to a smooth consistency. It is then cooled down before cutting and packaging. Because no preservatives are added, the fudge must be refrigerated. It maintains is smooth texture and quality for six month refrigerated or a year frozen. Soon, a new flavour will be announced!
Nancy Adams, aka The Fudge Lady
VILLAGE TREATS
HAND-CRAFTED CHOCOLATE
​At Village Treats, we produce high-quality, hand-crafted chocolates made with traditional recipes and techniques resulting in an unforgettable product.
Village Treats is currently owned and operated by Galen Neilson and Nick Levac: a married couple with two active daughters.
When the West family was set to retire, Galen's inherited entrepreneurial spirit sparked. She pitched the purchase idea to Nick, and he was game to sign on.
At just 19 and 20, Galen and Nick purchased Village Treats in 2001.
From the production line to the front counter, they love working with clients and customers and bringing their chocolate ideas to life.
Whether it's creating a custom chocolate mold for a corporate event, supplying Easter Cream Eggs for local fundraisers or handing over a hand-selected package of chocolates at the front counter, they feel lucky that they get to bring a smile to someone's face every day.
And, ya. They have fun together, too!
Since 1979, one thing has remained a constant here at Village Treats – a commitment to quality and producing the best chocolates.
The West family, who started Village Treats in 1979, were dedicated to making top quality chocolates and the tradition carries on today. We take pride in using only the finest, and freshest ingredients – just as Mr. West did when he started making fudge over 40 years ago.
Original recipes are still being used today along with some of the same machinery that were used right from the start. All chocolates start off from the scratch and are cooked in large copper pots over an open flame in our kitchen in Lanark, Ontario. Then, we hand press our truffles and creams, and hand cut our caramels before they are sent down our line to be enrobed in either milk or dark chocolate. Working so closely with our chocolates at every step of production ensures a product that is true to the standards Mr. West set back when he started.