Mary Lynn Benz
Glass fusion
In the Deep River area, and with the Valley Artisans' Co-Op, I have a tremendous opportunity to pursue an art form called GLASS FUSION.
Glass fusion work is a few thousands of years old, and intricate works have been documented since approximately 1500 B.C. – from functional items such as bowls, to beautiful jewelry and wall tiles. Glass blowing seems to have dwarfed the works of glass fusion artists for hundreds of years, but fusion work is now enjoying a "rebirth" of a sorts.
Any type of glass can be fused, and today there are many beautiful colours of specialty, fusion glass with good, predictable qualities. I work with glass, glass stringers, glass frit and glass powders. Possible designs and patterns are limited only by the imagination. I love the possibility of making a variety of functional items – bowls, dishes, platters etc. as well as wall and window hangings. When a design and colours are determined and the glass is cut, the work goes into a kiln similar to a potter's kiln, and the work is fired to 1300 – 2500 ℉ to melt the glass and fuse it together. The colours and designs are permanent. They also have softer lines that are delightfully smooth to the eye and the touch. One feels compelled to run their fingers over the glass.
Glass fusion, for me, will be a lifetime of trying new designs, techniques, temperatures and colour combinations. Custom work and requests offer a focus for this pursuit – Contact me!
I am constantly trying to learn different aspects of glasswork. Besides learning from books myself, courses taken to date include:
2007 Advanced Fused Bowl and Design Elements (course given by Patty Gray of the U.S. – one of the"gurus" of the fusion world for over 40 years)
2008 Mosaics, Tryptych work, pattern bars, combing, pot melts, cold work (i.e. polishing), pyramids, bas relief (given by Patty Gray)
2008 Dichroic Jewelry (given by Katrina Covello)
2008 Faceted Dichroic Sculpture, working with optical quality lead glass (course given by Kent Lauer – who has worked on making faceted glass items for films, commercials etc. for over 40 years in California)
2010 Frit Casting (given by Jane Persico of the U.S.)
2012 Create More Realistic Fused Glass Pictures (given by Janet Schrader, U.S.)
2012 Triage for Your Firing Schedules (given by Lisa-Richardson-Bach, U.S.)
2012 Verre Eglomise (given by Peggy Pettigrew-Stewart, U.S.)
2015 Kiln-Formed Glass with Powders – wafer "cookies", lino-cut monoprints, Dremel Tool work, freeze and fuse moulds from silicone etc. (course given by Bob Leatherbarrow – from Salt Spring Island, B.C.)
I have also entered the following Juried Shows:
2003 Valley Arts Council Juried Art Show – and won first and second prizes in 2 categories
2003 Glass Art Association of Canada (Toronto) – Fabled Footwear Glass Slipper Exhibition – had my entry (among many others) chosen to be placed in the window of the Bata Shoe Museum on display
2005 Juried Multi-Media Art Show and Sale – Library Arts Committee and won first and third prizes in 2 categories
Also:
I have designed and prepared the awards for several years for the local Silver Spoon Ski Race, some orienteering competitions and also a few times for the Rotary Club's annual Community Service Awards.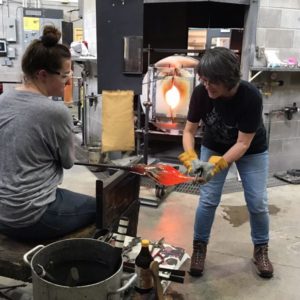 Sara Carlisle
Glass objects & Lampwork Beads
Sara Carlisle, born in the United Kingdom in 1958, travels between her home in Deep River, Ontario, Canada, and Sheridan College in Oakville, where she is working towards a Bachelor of Arts degree in Craft and Design: Glass.
Sara's interest in art is long-standing. She has been a member of The Valley Artisans' Co-op in Deep River since 1996. She has given several workshops on multi-media art in the local public school, and one-on-one classes in lampworked bead making. While her earlier work focused predominantly on landscapes in ink and crayon, and botanical watercolour (exhibited in Toronto at Canada Blooms (2003) and in New York at the 7th Annual International Juried Botanical Art Exhibition (2004)), she has more recently developed an interest in glass art. For several years now, she has created hand-made lampworked beads in her Deep River basement studio, but in addition, in 2017 she went back to school to learn to be a glass blower.
Sara designs and makes jewelry incorporating her own lampwork beads, semi-precious stones, sterling silver, and a variety of other glass, stone and shell beads, which she sells at the Co-op and at local markets and craft shows. She has exhibited her work at several local group exhibitions in Deep River, Ontario. Her blown glass work – paperweights, small sculptural pieces and drinking glasses – is now starting to make occasional appearances at the Co-op.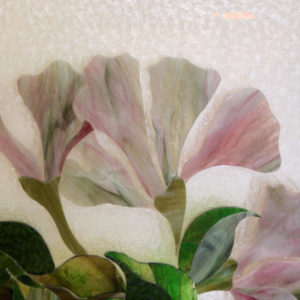 Carole Pinard
Stained Glass
I am a French Canadian born and raised in Ottawa. The arts were very important for my parents, and when growing up I was introduced to many different types of art. I have fond memories of my first art teacher, Mrs. Partridge, who got me hooked on painting.
I pursued my interest in the arts at the University of Ottawa and graduated with a BA in visual arts and psychology and a bachelor's in education. After University, I continued to develop my painting on my own. I drew inspiration from Canadian landscape artists such as Tom Tompson, Jacques Poirier, and Gilles Rebry. My passion for art even worked its way into may day job as a primary school French immersion teacher; the arts were a prominent part of my lesson plans, and the children often asked me if they were doing art or math!
Four years ago, I took some coaching from Gordon Harrison, a well-known landscape artist in Ottawa. This led to my participation in an exhibition of landscapes "26 Brushes and 52 Hands" at the Harrison gallery on Sussex Drive. Meanwhile, I continued to draw inspiration from the countryside; the two paintings that are now at the co-op were inspired by house boat trips near Deux Rivières.
My interest in stained glass started 20 years ago. My father and I were curious, and we took an introductory workshop. I got hooked! I went on to take all the workshops I could, and I delighted in the interaction of colours and textures. Stained glass is a surprisingly versatile medium, and I have created pieces in many different genres including modern abstract, arts and crafts, prairie style and, of course, landscapes. When I lived in Ottawa, I showed my pieces at the Sienna Gallery in Rockland and at Eufloria in Gloucester.
I enjoy doing commission work. Getting the client involved in tweaking the design and choosing the glass makes the creative process and the final product much more personal and meaningful for the client.
Deep River has a rich and diverse artistic community, and I am looking forward to getting involved and discovering all that it has to offer.