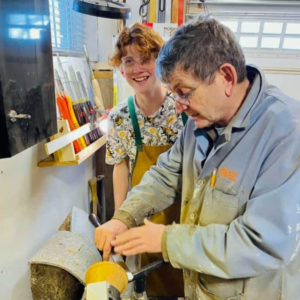 Jim Carmichael
Sawdust & Shavings Woodwork
Good Morning, my name is Jim Carmichael. We moved from Northern Ontario to Deep River in 2021. My wife and I had this town on our "where we want to retire list". We are really enjoying all the activities and the people that live here. There is so much to do.
I have been working with wood for quite some time, doing everything you can with wood. I have planted trees, built houses, made furniture, cut fire wood and tapped trees for maple syrup. The last while I have been turning wood on a lathe, making bowls, platters, vases, candle holders, little critters and anything else that comes out of the sawdust and shavings.
I joined the Valley Artisans Co-op Gallery in January of 2022. I have some of my work displayed at the Co-op. The best wood to work with is the wood that is available right here in this area. I like to turn maple, Cherry, walnut, poplar and pine. The group of artists at the Co-op are incredibly talented and have some amazing pieces displayed.
See you all there.
Eugene Kasaboski
Woodwork
Dave Whittier
Woodwork
I have lived in Deep River my entire life. I never really wanted to move anywhere else. Activities in the outdoors are very important to me and the access to crown land nearby makes it very attractive to remain in the area.
Approximately 20 years ago I started becoming interested in wood working but I wanted a hobby that did not involve having to purchase large machinery as I did not have the room. I started out using a Dremel tool and carving wood clocks and figures, but I wanted more so I ended up purchasing a small scroll saw and experimenting with scroll saw work. I enjoyed the experience so much that I gave my original scroll saw away and purchased a top quality model which I have used and enjoyed for many hundreds of hours
I now have filing cabinets full of designs for jewellery boxes, ornaments and practically anything else that can be made from wood, it was getting to the point that I had made so many items that I no longer had any room to store them. It was suggested to me to join the Valley Artisans so other people could enjoy what I put many, many hours into making.
So I did join the Valley Artisans and I do hope that others enjoy what I make!